Winegrowers Supplies - Spraying Equipment

Mist sprayers: high quality at amazingly low prices:-
Favaro Syrius: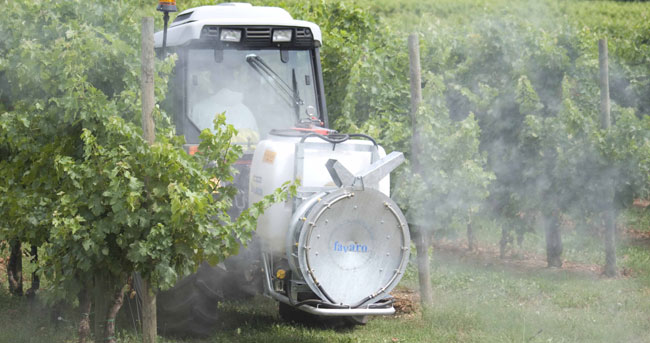 Light in weight, suitable for small tractors (from 29 HP). 600mm diameter fan. For row widths 1.6 to 3.0 metres.
AS220 with 200 litre tank, 153cm x 107cm x 91cmH, 220 kilos, 4875 Euros
AS320 with 300 litre tank, 174cm x 135cm x 105cmH, 250 kilos,
AS420 with 400 litre tank, 170cm x 135cm x 105cmH, 295 kilos, 5700 Euros
Favaro make many larger and trailed models, details and prices on request.
"I am very pleased with my AS420 sprayer, its absolutely wonderful!"
Or: for very small tractors such as the Kubota 2150 (24 HP with 18 to 20 HP available at the pto), where there is not enough power to turn a 600 mm diameter fan:-
Waibl 150S: 3900 Euros
Spray container in polyester of 150 to 200 litres (168 litres useable) with filling screen.
Air blower with 20,000 cubic metres / hour.
Transmission having a speed and idle.
Piston diaphragm/membrane pump AR503 (55 litres/min, up to 40 bar pressure).
Hydraulic mixing.
Pressure filter with central cleaning.
Hose connection for hand-pistol.
Pto shaft.

Spray system:-
VARIO spray with manual or hydraulic adjustable nozzle holder.
Stainless steel cross-flow oblique flow fan type Q with adjustable air baffles
Stainless steel cross-flow fan around type Q / R with adjustable vanes for high pergolas.

Optional extras:-
Centrifugal clutch
Nozzle shut-off with manual distribution.
Electronic control, 689 Euros
For steep or difficult sites:-
IND - Wheelbarrow Sprayer

a new type of spraying equipment:-
available with Honda petrol engine or single phase electric motor, and long hose reel (optional).
All componemts are professional quality!

Wheelbarrow with 125 litre tank, 420 Euros

Choice of four 'Comet' spray-pumps, with sufficient power to spray vines:-

MC20/20: 20 bar pressure,
20 litres/minute, 261 Euros

MC20/20 2T Oleomac: 20 bar pressure,
20 litres/minute, 353 Euros

APS31 2HP: 30 bar pressure,
25 litres/minute, 510 Euros

ASP31 2HP Honda GC 160: 30 bar pressure,
25 litres/minute, 580 Euros

Spray tubing (up to 80 bar pressure):-
8mm id X 15mm od, 100 metres, 119 Euros
10mm id X 18mm od, 100 metres, 152 Euros

Rotating reel for tubing: 60 Euros

Spray pistol:-
model MA, 30 Euros
model Me-Pi, 16 Euros

Prices shown are exclusive of Vat.
Delivery usually will need to be charged at cost.