Winegrowers Supplies - Chillers and heat exchangers
Portable chilling / heating units: easy to move around and attach to cooling jackets, or to internal cooling snakes/plates/coils, on one tank or a series of tanks, for:-
controlling the fermentation temperature
cooling of newly pressed must for slow starting ferments
cold stabilisation, to precipitate tartaric acid crystals
maintaining storage temperatures in tanks (or barrels, with a cooling snake)
larger models have a heating option, to raise the temperature (above + 15 °C) in order to promote malo-lactic fermentation with red wine, or to assist the start of secondary fermentation of Sparkling Wine just before bottling.
The following chillers are manufactured in Germany:-


The MiniChilly small cooling units, made of stainless steel, are an economical solution for micro-breweries and smaller wineries etc.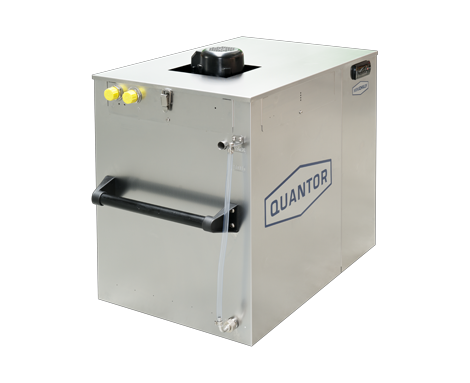 MiniChilly 05: cooling capacity 0.50 kWatt at 15 °C, 0.39 kWatt at 0 °C, 27 litre open tank, 700 x 370 x 495 mm, 36 kilos, 1448 Euros

MiniChilly 09: cooling capacity 0.90 kWatt at 15 °C, 0.81 kWatt at 0 °C, 27 litre open tank, 700 x 370 x 495 mm, 39 kilos, 1755 Euros MiniChilly 17: cooling capacity 1.65 kWatt at 15 °C, 1.46 kWatt at 0 °C, 48 litre open tank, 750 x 400 x 550 mm, 51 kilos, 2189 Euros

These units can be used to control several tanks simultaneously with a single temperature setting (on the thermostat controller), with a ring of hoses to and from each tank.

There are also Combo models which incorporate a special single tank temperature regulator called FERM-SB, 319 Euros extra.
The FERM-SB comprises a Fermfix regulator, transformer and temperature probe on a cable, linked to the small pump (which is submersed inside the chiller liquid).
The pump is started and stopped by the regulator that's fitted on the tank. These Combo models can control only one tank.

Equipped with a thermostat controller, a water/glycol tank and a submersible circulation pump with stirer.
Due to the simple construction the unit is easy to fill and install. Connections are ¾" bsp.
A mixture of 25% propylene-glycol and 75% clean water is necessary, with this it is able to chill down to - 6 °C.
At below 0 °C an ice-coating will be built around the tubes, which provides an additional, stored cooling capacity. This boosts the capacity of the unit, giving a constant cooling temperature over a longer time period.

Also the Ice Chilly:-

IceChilly 33: cooling capacity 3.3 kWatt, 67 litre open tank, 230 volts 1.6 kWatt, 3765 Euros IceChilly 77: cooling capacity 7.7 kWatt, 320 litre open tank, 6915 Euros

The unit has a submersed pump which recirculates the cooling liquid. It can be used with a single tank, setting the desired temperature on the thermostat controller,
or it can cool several tanks using Fermfix regulators on each tank to maintain different temperatures, as with the chillers below.

An optional extra is a stainless steel spiral coiled-tube, located in the chiller liquid.
The product to be cooled is pumped through this coil, cooling it directly and more efficiently than if in a tank, 299 Euros extra.
Cleaning the coil is carried out with three 28 mm orange cleaning balls, in the same way as a pasteuriser coil.
This is ideal to install at the input to an isobaric filler, to keep the temperature low.
Larger, compact, shelf-top units, equipped with a hermetically sealed motor-compressor and a cooling water/glycol circuit containing tank and centrifugal pump:-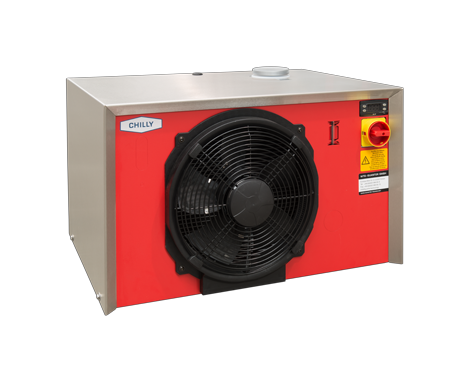 For a system for cooling fermentation the following general advice applies:-
up to 15,000 litres Chilly 25
up to 20,000 litres Chilly 35
up to 25,000 litres Chilly 45
The Standard models, allowing cooling down to + 10 °C, are no longer being made.
Low Temperature models, allowing cooling to negative temperature (possibly down as far as - 10 °C), for cold stabilisation, 230 volts/1-phase/50 Hz:-
Chilly 25 M-LT: 705 x 510 x 450 mm, cooling capacity 2.2 kWatt, 20 litre open tank, 3925 Euros
Chilly 45 M-LT: 755 x 600 x 500 mm, cooling capacity 4.2 kWatt, 26 litre open tank, 4800 Euros
The 'open tank' is filled with the coolant liquid, it can be filled with water only for cooling down as far as + 7 °C.
To cool below + 7 °C a propylene-glycol/water mixture must be used; this also gives frost protection in the winter.
The propylene-glycol should be 'food grade'. A mixture of 25% glycol and 75% clean water is sufficient.
The total volume, in the tank, connecting tubing and cooling-jackets, may be 30 to 40 litres.
In operation they produce a lot of warm air, taking in lots of cool air, so ideally should be in a room adjacent to the tank room which will benefit from heating.
The connecting hoses, in a ring circuit, should be 20mm internal diameter, with T-pieces to and from each cooling jacket. Cooling-jackets have 1" or ¾" bsp thread hose-tails on inlet and outlet (at top). To avoid wasting power the hoses should be insulated, using normal pipe insulation over the hoses, after installation.


Larger floor-standing models on wheels, 380 volt 3-phase, these can chill down as far as - 10 °C.
They also have an integrated heating element but the capability is only up to 40 °C:-
Chilly Max 50, cooling capacity 6.4 kWatt, 30 litre tank, 5679 Euros
Chilly Max 90, cooling capacity 10.7 kWatt, 30 litre tank, 6799 Euros
Chilly Max 110, cooling capacity 12.7 kWatt, 30 litre tank, 8499 Euros

or the MCK series, high efficiency so cheaper to run:-
McK 50, cooling capacity 6.2 kWatt, 120 litre tank, 7070 Euros
McK 70, cooling capacity 8.8 kWatt, 120 litre tank, 7764 Euros
McK 90, cooling capacity 11.5 kWatt, 120 litre tank, 8560 Euros
Mck 110, cooling capacity 13.9 kWatt, 120 litre tank, 9979 Euros
McK 141, cooling capacity 16.6 kWatt, 120 litre tank, 12,235 Euros
McK 181, cooling capacity 20.0 kWatt, 120 litre tank, 13,610 Euros
Mck 221, cooling capacity 25.3 kWatt, 300 litre tank, 15,990 Euros
McK 271, cooling capacity 29.9 kWatt, 300 litre tank, 18,295 Euros
McK 321, cooling capacity 37.0 kWatt, 300 litre tank, 19,745 Euros
Mck 361, cooling capacity 45.5 kWatt, 300 litre tank, 22,960 Euros
McK 441, cooling capacity 50.7 kWatt, 300 litre tank, 24,050 Euros
McK 541, cooling capacity 59.9 kWatt, 300 litre tank, 26,260 Euros
Mck 641, cooling capacity 71.3 kWatt, 300 litre tank, 28,690 Euros
The following fittings are needed, for example for 4 tanks:-
1 x overflow prevention kit, needed if the unit is installed lower than the cooling jackets.
for all Chilly models, 220 Euros
for McK models, more expensive because the valves are larger, 282 Euros

This kit prevents residual water from the pipes of open water systems to over-flood the cooling unit's integrated water-tank when the pumps are switched off.
Consists of solenoid valve ¾", non-return valve ¾" and solenoid connection (230 volts, 2 metre cable):-

4 x FermFix temperature regulators @ 171 Euros each.

new Fermfix-Fermline (2017):



These temperature regulators need to be installed directly on to the tanks, into a thermometer probe. The probe needs to be at least 7.3 mm internal diameter.
The wine maker can set or re-set the required temperature on each tank. As a safety measure, it is possible to determine a temperature range above or beneath which an optical alarm will be given.
The controller's double display shows the actual and pre-set temperature in separate displays.
• Temperature range: - 9.9 °C up to + 99.9 °C
• Voltage: 24 volts AC +/- 10%
• Output: to solenoid valve 24 volts AC, 16 Watts
• Mode of operation: cooling, heating, cooling and heating, display, off
• Controller's structure: 3-Points, PI, PID
• Electric connection: cable with open end or jack/ plug
• Protection type: IP 65

4 x Connection boxes with 2 relays for Fermfix regulators @ 81 Euros each
4 x Electrical cables (10 metre) with plug for solenoid valve @ 33 Euros each
1 x Transformer (24 volts) for up to 5 FermFix regulators @ 100 Euros
Partial-assembly of the electrics ready for installation @ 100 Euros:


This includes mounting the first connection box with the Fermfix regulator and connection to the Chiller, and preparation to the next regulator.
The additional Fermfix regulators are installed by the customer.
The price for assembly includes also the relay which is installed in the chiller, this relay switches off the chiller when all solenoid valves close and then restarts it as soon as at least one tank requires cooling.

4 x Solenoid valves ¾" (24 volts) @ 133.50 Euros each
4 x In-line-filters ¾" (300 micron), to be installed just before the solenoid-valve, @ 23.50 Euros each


It is important to install a brass ball-valve each side of the in-line-filter/solenoid valve, so that the filter/solenoid valve can be replaced easily if necessary.
The ball-valve can be closed, to shut off the coolant flow, when a tank is not in use:
8 x Brass ball-valves (male/female) ¾" @ 7 Euros each
12 x Double threads, polypropylene: ¾" male to ¾" male @ 2.15 Euros each Polypropylene fittings for the cooling circuit, feed and return, 20 mm internal diameter:-

Assuming the cooling-jackets have 1" bsp male threads:-

8 x Bows 90°: 1" female to 1" male, for jacket inlet and outlet so that the hoses go downwards, @ 2.75 Euros each
8 x Hose-connectors: 1" female to 20 mm hose, good rubber seals @ 3.35 Euros each

8 x T-pieces: three ¾" female threads, @ 3.85 Euros each
22 x Hose-connectors for T-pieces: ¾" male to 20 mm hose, @ 2.50 Euros each
2 x Blank off plugs: ¾" male, @ 1.85 Euros each - for the last tank T-pieces.


You will need lots of ptfe tape for the bsp threads.

Wine-quality PVC hose, non-toxic, clear with a terylene reinforcing web:-
20 mm internal diameter, 3.5 mm wall, up to 3500 litres/hour: 50 metres @ 2.50 Euros per metre


32 x Stainless steel hose clips: 22-30 mm (for 20 mm id hose): @ 2.50 Euros each


In addition you will need 10 to 12 litres of propylene-glycol, to make a mixture of 25% propylene-glycol and 75% clean water.

Notes on connection of the hoses to the cooling jackets:-

Polypropylene plastic hose connectors are better than steel at minus temperatures.

Basically: the feed hose goes via a T-piece, then ball-valve/in-line-filter/solenoid-valve/ball-valve, to the cooling-jacket. With the return hose from the cooling-jacket going to another T-piece, and back to the Chiller. Cooling-jackets are connected in parallel.

In detail: assuming the cooling-jackets have 1" bsp male threads:-

Attach the feed hose from the Chiller to a hose-connector (20 mm to ¾" male) fitted in the T-piece,
then to the lower outlet of the T-piece: directly fit the ball-valve, then the in-line-filter, then the solenoid-valve, then the other ball-valve (one ball-valve each side, so the solenoid valve and/or filter can be changed without draining the system),
then a hose connector ¾" female to 20 mm id hose,
then a length of 20 mm id hose to another hose connector (1" female - 90° bow + 1" hose-connector to 20 mm id hose) on the cooling-jacket inlet.

For the return: attach to the the cooling-jacket outlet: 1" female - 90° bow + 1" hose-connector to 20 mm id hose,
then a length of 20 mm id hose, straight downwards,
then attached this hose to a hose-connector (20 mm to ¾" male) fitted in the T-piece,
then a length of 20 mm id hose from another hose-connector (20 mm to ¾" male) fitted in the T-piece, going back to the Chiller.

Each cooling-jacket is connected in parallel, onwards from the T-pieces.

The ¾" plastic blank-off plugs fit into the T-pieces for the feed and return to the last tank. This is so the circuit can be extended easily to add more tanks later.

The solenoid-valve assembly could be on the floor under the tank, with the tubing laying along the floor, so there is no weight pulling it down. Or it could be tied along the ceiling, which would mean that cleaning the floor is easier.
Calculating the power/size of Chilling unit necessary:-
The following are key features to consider:-
1) container size (small tanks have more surface area and ferment faster)
2) cellar temperature: ambient temperature
Delta (= the temperature difference for cooling).
Then Delta x tank volume in litres = required kilocalorie/hour.
Dividing this value by 860 gives the required kWatt per hour to cool down in one hour.
This value is then divided by the number of hours over which you wish to cool,
e.g. in 24 hours: 15 x 3000 / 860 / 24 = 2.18 kWatt
gives the required performance of the chiller if you wish to bring 3000 litres down from 25 °C to 10 °C in 24 hours.
The manufacturer says:-
Cold (tartrate) stabilisation of wines with very high alcohol content requires about 1 week at - 4 °C.
Wines with lower alcohol content need about 10 days at 0 °C (less alcohol cools faster).
The cooling performance decreases greatly at the low temperature range; by up to 10/20% of rated power.
For cold stabilisation their advice is to choose 2 x the nominal power requirement. So for example:
- for 3000 litres, 15 °C wine temperature to be brought down to 0°C, in 24 hours: 15 x 3000 / 860 / 24 = 2.18 kWatt x two,
or with 2.18 kWatt it would take 48 hours, or you can chill 1500 litres at a time if you want to cool down in 24 hours.


Prices shown are exclusive of Vat.
Delivery will need to be charged at cost.